Our approach of corporate sustainability

Our Corporate Strategy
Sustainability is not part of a separate strategy, but is instead integrated into our overall corporate strategy and is thus embedded in the four pillars of that strategy:
We put our clients at the heart of everything we do.
We look to offer our clients a unique bank-insurance experience.
We focus on our group's long-term development and aim in that way to achieve sustainable and profitable growth.
We take our responsibility towards society and local economies very seriously.
We are convinced that our strategy – powered by our business culture and the contributions made by our people – is instrumental in earning, keeping and growing trust day by day and therefore in helping us become 'the reference' in our core markets.
Our Corporate Sustainability Strategy
Sustainability to us means that we are able to respond to the expectations of all involved stakeholders, not only today but also going forward. The basic condition for sustainability is financial resilience and vice-versa. Only by focussing on long-term sustained financial performance and a strict risk management, we are able to honour all our commitments without external support.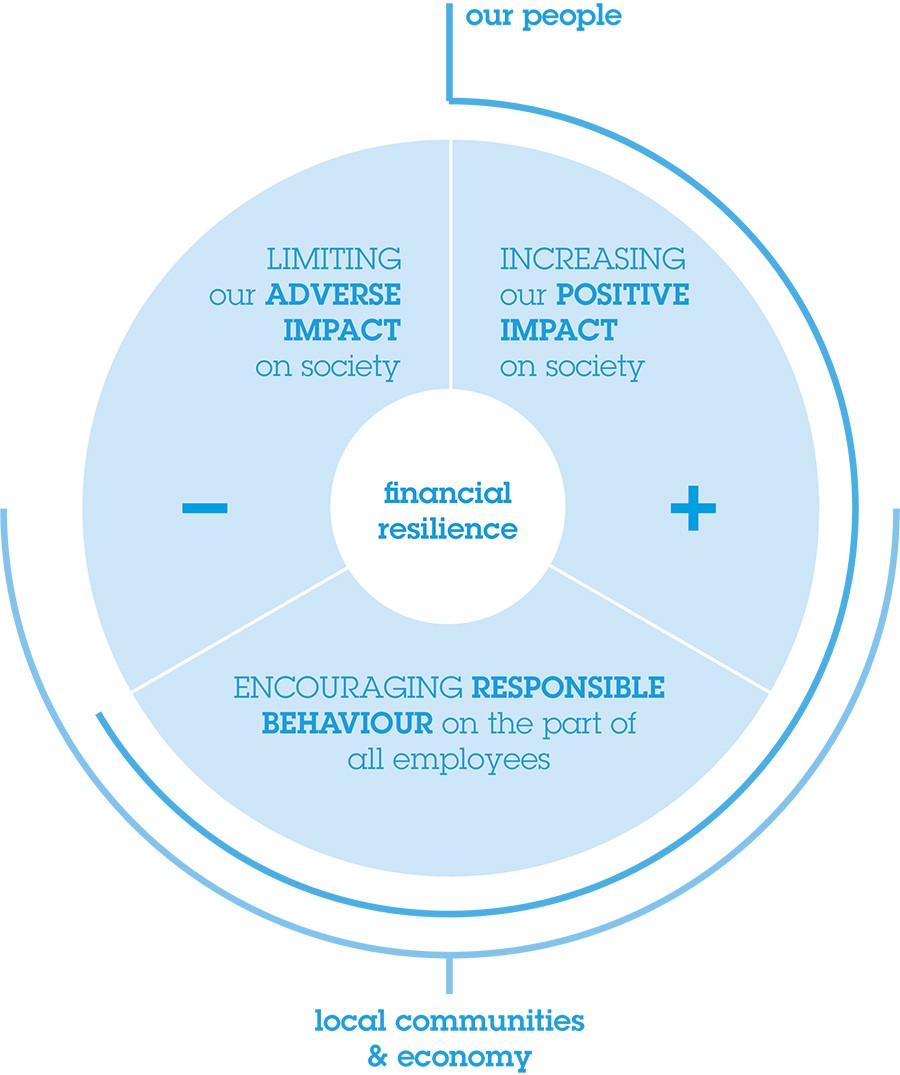 We have translated our sustainability strategy in three cornerstones:
Limiting our negative impact on society by implementing strict policies and sustainability guidelines, by reducing our own environmental footprint and by our approach towards Socially Responsible Investments. Read more about limiting our adverse impact on society.
Increasing our positive impact on society in those areas where we can make a difference through our everyday activities. View here for more information.
Encouraging responsible behaviour among all our employees
In implementing our sustainability strategy we focus on the local communities and economy. We are conscious of the impact of our operations on society, and respond to societal needs and expectations in a balanced, relevant and transparent manner. In doing so, we acknowledge the special approach in each of the local economies of the core markets in which we operate.
Our people represent our 'human capital' and are one of the main drivers to creating sustainable value as a bank-insurer. We encourage all our employees to behave in a way that is responsive, respectful and result-driven.
Our commitment to the environment and climate action
We recognise that the impact of global warming is one of the greatest challenges the world faces and will have a significant and lasting impact on economic growth and prosperity. As a large financial institution, we want to play a leading role and be a significant lever in the process of transition to a more sustainable society and a low carbon economy, by working together with all stakeholders.
In September 2019, KBC strengthened its climate commitment by signing the UN-initiative Collective Commitment to Climate Action (the CCCA). This has led to the initiation of our Sustainable Finance Programme, bringing together all relevant climate expertise within our group to address this challenge. The programme oversees and supports the business as it develops its climate-resilience in line with the TCFD (Task Force on Climate-Related Financial Disclosure) recommendations and the EU Action Plan. Although in 2021 the focus was on our climate approach, we have taken steps to also include other environmental risk in our risk approach. 
For more information on our commitment to the environment and climate action  and our Sustainable Finance Programme, please refer to the KBC Group Sustainability Report.