Who we are

Our purpose
As bank-insurer, our purpose is to help all our stakeholders realise their dreams and protect them. 
We aspire at being far more than a bank and an insurance: we want to enable and protect the dreams of our clients. Even more: we want to inspire, boost and stimulate those who count on us, day after day.
What we do, we do it so that others can grow and achieve their respective goals: we enable our retail clients to plan and realise their projects, and help them to then protect them; we cooperate with our business clients so that they can grow and develop in the long term; we drive local economies so that communities can further develop, we offer services to their citizens, opportunities for their young people; we are preparing for tomorrow's challenges, so that our current and future employees can develop their potential.
Who are we?
Formed in 1998 after the merger of two Belgian banks (Kredietbank and CERA Bank) and a Belgian insurance company (ABB Insurance).
Principal activity: integrated bank-insurance.
Clients: 13 million.
Core markets: Belgium, the Czech Republic, Slovakia, Hungary and Bulgaria. Also present, to a limited extent, in other countries.
Network: ca. 1 200 bank branches, insurance sales via own agents and other channels, various electronic channels.
Employees:  42 000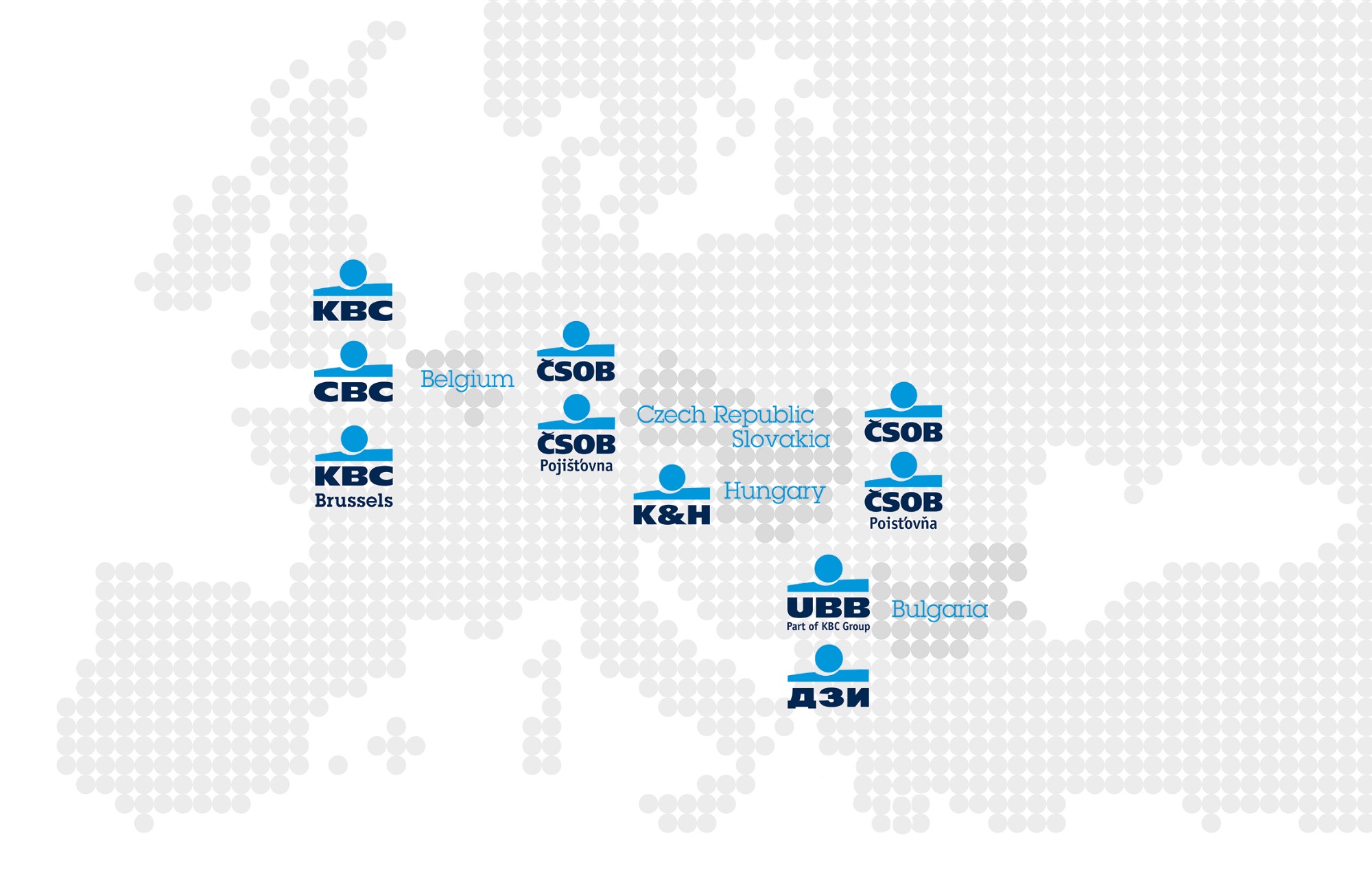 Our vision
Our vision: to be the reference for bank-insurance in all our core markets
KBC is a group of 40 000 talented employees in different countries who work together and share a common culture.
Our culture is the fertile and energizing soil on which we build our strategy, consisting of 4 cornerstones, interacting with each other:
We strive to offer our clients a unique bank insurance experience
We develop our group with a long term perspective and therefore achieve sustainable and profitable growth
We put our clients' interests at the heart of what we do and strive to offer them at all times a high quality service and relevant solutions
We take our responsibility towards society and local economies very seriously and aim to reflect that in our everyday activities
We are convinced that our strategy - powered by our culture and with the contribution of our people–helps us earn, keep and grow trust day by day and therefore makes us become the reference in our core markets.