Our vision on customer centricity
To be the reference and succeed in the long term, we need to earn and keep our clients' trust day after day. To do so, we put our clients at the heart of what we do. We proactively offer them complete, convenient and hence relevant solutions and an optimal experience.
Everything we do is guided by:
Trust
Covenience
Proactivity
To make a difference compared to our competitors, we focus on an integrated customer centric model. The combination of products, processes, distribution channels, external partnerships and relevant information allows us to offer meaningful and complete solutions to our clients.
How we put our clients at the center of everything we do
We start everything from the needs of our clients
We want to create added value for our clients by accurately meeting th clients' needs in terms of financial products. Therefore, everything at KBC is based on the client's needs and not on our banking or insurance products and services. It is also the client who chooses how and when products and services are provided and through which distribution channel. That's why the different channels are accorded equal status at KBC and need to seamlessly complement and reinforce each other.
We protect our clients from certain risks
We want not only to respond to our clients' needs, but also to shield them from certain risks. As a bank, we are working in each of our core markets, for instance, on solutions for clients who need to get through a difficult financial period. As an insurer, our focus is firmly on prevention, health and safety, with a variety of prevention campaigns being launched throughout the year.
We constantly listen to the market and analyse how we can improve
Since putting the interests of our clients at the centre of all we do is the cornerstone of our strategy, we want to be able to keep a close eye on the situation. That is why we are collecting their experiences in the various markets in which we are active and using that information to improve our services and products.
In 2014, we commissioned an external party to conduct a reputation study in all our core countries. Our company's reputation is influenced by a variety of factors (see diagram). Our group-wide reputation study gives us an idea of how our company is perceived as a bank-insurer and the opportunity to define actions in response.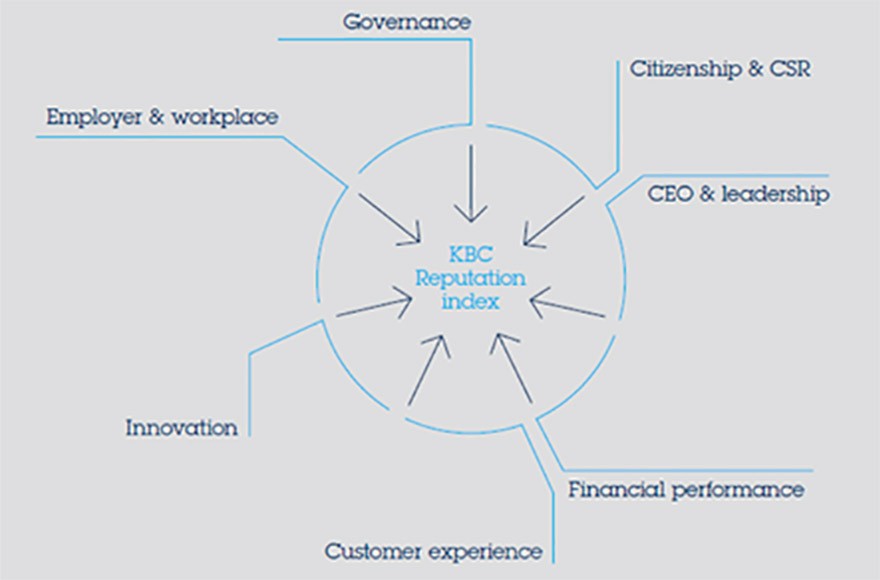 We constantly work on improving the experience of our clients
We also monitor and measure the client experience (see table) and have been using net promoter scores since 2014. The targets we set ourselves are naturally intended to raise the general level of client satisfaction, but we also want them to make everyone at our group aware of our client approach. Putting the client at the centre of all we do has to be in our DNA and must be part of our everyday routine.
The most important Key Performance Indicators (KPIs) relating to reputation and client satisfaction are set out in the table below. Effective results per KPI can be found in the annual report.
| KPI | What | Guidance |
| --- | --- | --- |
| Reputation index | This tool gives a general idea of how 'being the reference' is perceived among key stakeholder groups, particularly, among the general public. The index reflects the overall public attitude towards the company and is influenced by the performance of seven manageable reputation drivers, which are also measured in this annual strategic study. The survey is performed and followed up by the external firm Ipsos. | Achieve the same or a higher score than the peer group average per country* |
| Client experience | Client experience is measured on the basis of responses to statements such as: 'Offers quality products and services', 'Offers transparent products and services', 'Is easy to interact with', 'Offers good value for money' and 'Understands client needs'. The survey is performed and followed up by the external firm Ipsos. | Achieve the same or a higher score than the peer group average per country*. |