Materiality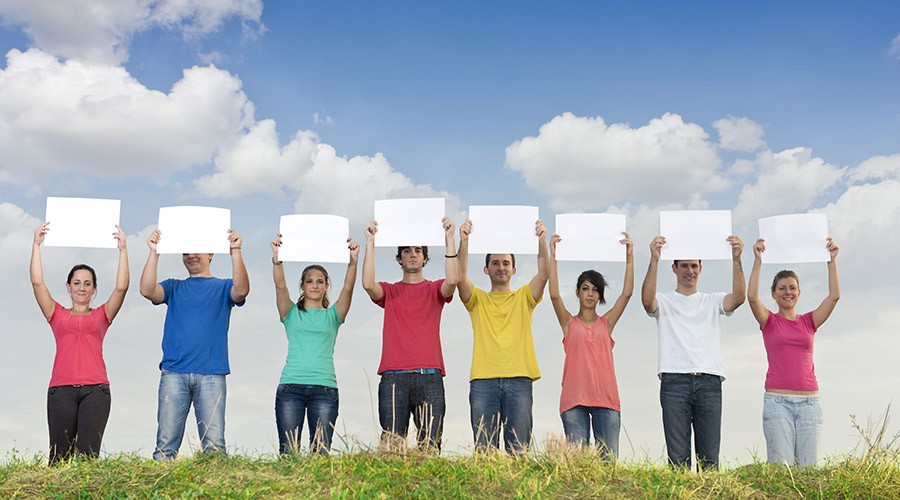 Creating, engaging and nurturing dialogue with all our stakeholders is vital to us
Open and transparent dialogue is the only way to get to know what each of our stakeholders expects from us and how we – as a bank-insurer – can best meet these expectations.
By engaging in dialogue and getting involved in new projects, we endeavour to create value for all our stakeholders.
Materiality
Our materiality assessment – performed every two years in cooperation with a third party – enables us to identify which themes our stakeholders consider the most important, what priority they place on them and how much these themes might impact KBC's performance and reputation. The most recent dates from 2018.
The materiality analysis was based on 30 topics selected by an external third party using 'big data research' and ESG frameworks. The 12 themes that have the greatest impact on KBC and are most important to our stakeholders are set out in the graph below (an enlargement of the upper right corner of the complete materiality index). The importance of these themes was established using a variety of research techniques (surveys, interviews and desk research) among our key stakeholders (clients, employees, NGOs, policy-makers, investors and business organisations). The impact of the themes was determined through internal workshops with management. The table indicates where we discuss these 12 topics in this report. The materiality analysis showed that the most relevant themes for KBC were business ethics, financial resilience, fair and transparent communication about products and services, data security and customer privacy, and digitalisation. We found that the climate change and environment theme had increased in importance since the previous materiality exercise and that we need to focus even more on our employees as the driving force behind our business and strategy.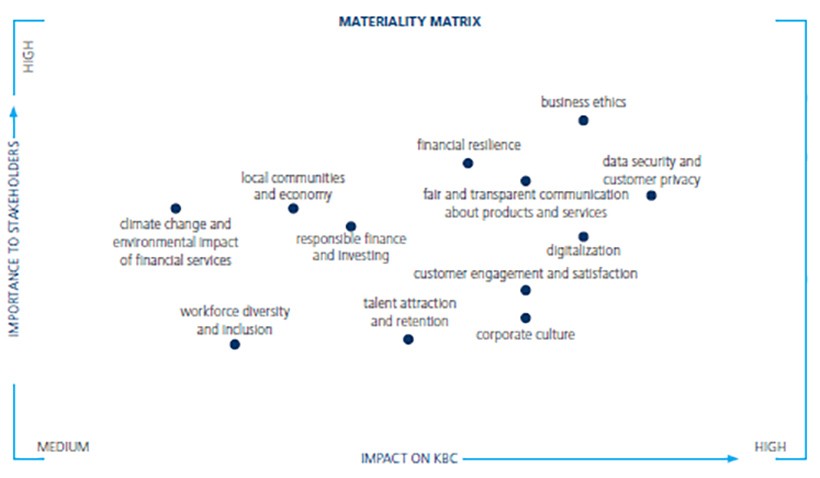 You can find the results of the complete survey in our Sustainability Report and in the Annual Report.
In dialogue with
External stakeholders
Thomas Leysen (Chairman of the Board of Directors), Johan Thijs (KBC Group CEO) and Filip Ferrante (KBC Group Sustainability Director) presented our sustainability approach and initiatives at the annual dialogue with our external stakeholders regarding sustainability at KBC. Piet Verschuere (Program Manager Sustainable Finance) introduced the KBC Sustainable Finance Program. Our partners were invited to share their ideas, suggestions and critique about the social role of financial institutions and the way in which KBC addresses that role. Find here the presentation (only available in Dutch)
Internal stakeholders
We also asked our employees to participate actively in our first internal stakeholder dialogue. In doing so, we aim to promote debate with our staff regarding social themes and to engage their creativity in order to come up together with solutions that will make our story stronger, both inside and outside KBC.
Every two years, the Group Employee Survey gauges the involvement of the KBC group's 41 000 employees and their pride in the KBC brand. The survey's findings are incorporated in our HR policy so that we can improve on the specific points brought to our notice. 2019 was an important transitional year with numerous changes. We therefore focused on short, action-oriented interviews (for more details, please refer to the KBC Group Sustainability Report). A new group-wide engagement survey in the same format across all countries, is planned for 2020.
NGOs
At the same time, we pursue regular, direct dialogue with NGOs to determine where and how KBC can contribute to solving society's problems.
Clients
We invite our customers to test new processes and functionalities in usability labs, measure customer satisfaction and hold individual or panel discussions in Customer Corners. We not only learn what they think is important, but also how they experience our products and services and, more importantly, how we can improve them. 
In addition, we also look beyond our own business to be aware of what's happening and developing in our society.