Our impact on the environment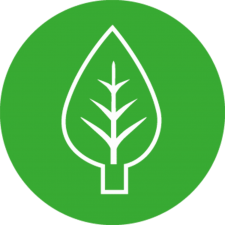 We are actively working on reducing our environmental impact. Currently, our main focus is on climate change mitigation and adaptation, but we are gradually expanding our focus to include other environmental themes, such as biodiversity, pollution, water and circularity.
Our climate commitments
In September 2019, we signed the Collective Commitment to Climate Action (CCCA), an initiative of the United Nations Environmental Programme Finance Initiative (UNEP FI). In signing the CCCA, we are bolstering our determination to limit global warming to below 2°C, whilst striving for 1.5°C, in line with the Paris Agreement. We aim to do this by stimulating the greening of the economy, in close collaboration with our clients.
The CCCA requires its signatories to set decarbonisation targets. We have had ambitious reduction targets for our direct footprint in place since 2015. As respects our indirect footprint, we set targets for a substantial subset of our loan portfolios for the first time in 2022, as published in our Climate Report.
At the end of 2022, KBC also committed its banking activities to the Science- Based Targets Initiative (SBTi). Our engagement with SBTi commits us to having our company-wide, emission reduction targets validated, in line with climate science, within 24 months.
Sustainable Finance Programme
As a part of our CCCA commitment, we set up a dedicated 'Sustainable Finance Programme'. The goal of the programme is to implement our environmental ambitions throughout KBC Group and across all core activities. Bringing together all the relevant climate expertise within our group is just one way in which this will be achieved.
The main focus of the Sustainable Finance Programme is a selection of our portfolios and product lines. We will concentrate on a selection of the most carbon-intensive product lines and industry sectors: mortgages, car loans
and car leasing, energy, commercial real estate, agriculture, food production, building and construction, chemicals, transportation and metals. We  have selected these sectors and product lines because they involve significant loan volumes and have a considerable impact on climate change.
In 2020 and 2021, we carried out initial strategic assessments of these sectors and product lines. We referred to them as our 'White Paper analyses'. The term 'White Paper' refers to the open mind with which we embarked on the process. In 2022, we updated most of the White Papers. Moreover, in 2022, we formulated decarbonisation targets for most of these sectors and product lines for the first time. These targets are published in our Climate Report and are a part of our CCCA commitment. More information on the Sustainable Finance Programme and our White Paper approach can be found in our Sustainability Report.
Towards a climate-neutral society
We review our climate targets systematically and continuously and we believe that our strategy reflects our commitment to make the biggest possible contribution, within our sphere of influence, to the needed decarbonisation efforts.
We have carefully reviewed the various net-zero initiatives and will continue to do so going forward. For the time being, however, we have decided not to join any of the net-zero alliances in the financial sector. 
More detailed information about this decision can be found in CSD_Communication_Our Climate Commitment.pdf
Our environmental footprint
Measuring our impact on the climate is a critical element in our sustainability approach, specifically in defining policies that reduce this impact. In practical terms: we measure both our direct and our indirect environmental footprint.