Property market chief source of inequality in Belgium
The growing inequality in home ownership, combined with the sharp rise in house prices, have led in recent decades to growing inequality in property wealth in Belgium. This manifests itself mainly in a growing duality between those who can no longer afford to buy their own home and those who are still able and willing to buy property, often as an investment, because they have the funds to do so. This trend poses major challenges for the Belgian economy and society.

Home ownership has risen steadily in Belgium over the last half-century. In 2016, 71.3% of the Belgian population owned their own home (Eurostat); in 1947, the figure was around 40% (census). This increase in home ownership was not equally distributed across all income groups, however. Since the 1970s, the share of home-owners has risen mainly in the highest income groups. By contrast, home ownership in the lowest income group has fallen sharply (figure 1). This indicates a growing inequality in home ownership. Those who own property moreover saw the value of it increasing quite strongly as a result of the sharp rise in property prices over recent decades. In addition to the inequality in home ownership, this was an extra source of growing inequality in property wealth.
The inequality on the housing market has accelerated over the last decade, as manifested in the sharp fall in the proportion of owners in the 40% lowest income groups (first and second income quintile in figure 1). Figures from Eurostat also point in that direction. The share of Belgian households with an income below 60% of the median who own property fell from 56.4% to 34.7% between 2003 and 2016. The share of property-owners among higher-income households rose over the same period from 75.7% to 78.1%. After Poland, Belgium is the country within the European Union where housing inequality, as measured in this way, increased the most in that period.

Figure 1 - Trend in share of home-owners by income quintile (households of working age, Flanders)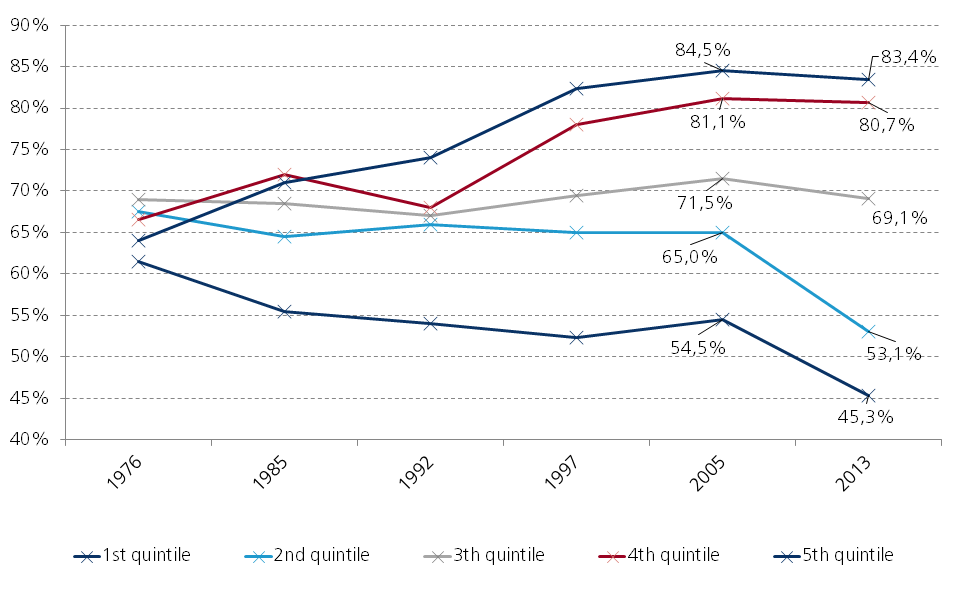 Downturn in home ownership
More generally, home ownership across the population as a whole has declined in the most recent years, the first time this has happened in the post-war period. The share of people renting has increased in parallel with this decline (figure 2). There are several explanations for this. First, there are cohort effects. People entering the housing market before the Second World War had less opportunity to buy a home. This group gradually disappeared from the statistics, and the share of home-owners accordingly increased. This effect, too, has now nearly run its course (HIVA, 2015). The fall in home ownership occurred earlier among owners without a mortgage. That is because of the gradual disappearance from the figures of a group of older home-owners who paid off their home loans at a relatively young age. Ranged against these are households in the younger age categories who will be paying off their home loans until a much greater age. Furthermore, for some people (young people in particular) renting a home more often becomes a deliberate choice, because it offers them more flexibility or the opportunity to more enjoy life (e.g. travelling more often).

Figure 2 - Population distribution by housing status (as a % of total population, Belgium)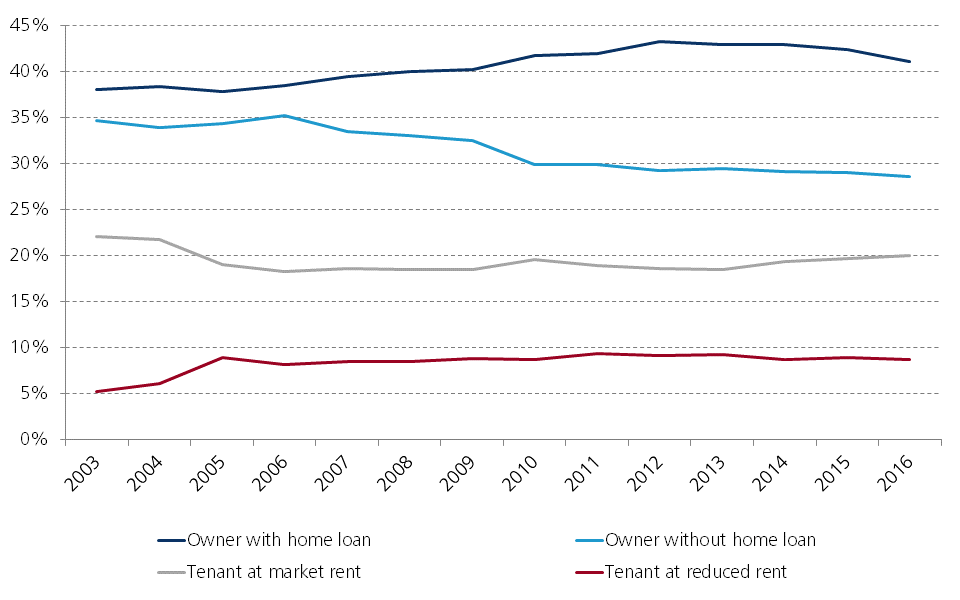 The general reduction in home ownership is also due to the ever more problematic affordability of buying a home for certain families. The sharp house price rises and more cautious mortgage lending policy by banks, at the instigation of the regulator, means that families from the lower income groups and the increasing group of singles, in particular, find it more difficult to find an affordable home to buy. As a result, they are increasingly forced to turn to the rental market. At the opposite end of the spectrum from this growing group is another large group of Belgians who are still easily able and willing to purchase real estate because they have the funds to do so. They are driving prices up further and increasing the duality that is emerging on the housing market. In the younger age categories, these are mostly families who receive financial support from their parents or grandparents. No reliable figures are available on this, but the phenomenon should in any event not be underestimated. This group are moreover competing with a growing group who buy property as an investment, driven by the low interest rates. Surveys by the ECB indicate that those buying additional property on top of their family home are also increasingly households with average wealth. They generally buy property to let out, which is largely occupied by those who are themselves no longer able to buy a home.

Socioeconomic consequences
The growing inequality and duality on the housing market poses major challenges for the Belgian economy and society. It is in any event not a good development for the stability of the housing market. The situation could quickly be disrupted if the interest of investors in property begins to wane, for example if interest rates should suddenly rise more than anticipated. This could then lead to a strong correction in property prices, with potentially adverse consequences for the whole economy. The decline in home ownership also means that the benefits of ownership accrue to a smaller proportion of the population. Owning one's own home offers greater home security and is generally seen as a good buffer against poverty, especially during retirement.
Given the lack of affordable homes for certain households to buy, it is important therefore to increase the focus of public policy on a properly functioning private and public rental market, with good quality, affordable rented homes. In a properly functioning rental market, declining home ownership need not necessarily be a problem. The high rate of home ownership in Belgium, which was greatly encouraged through tax breaks, has also had a number of undesirable side effects, including a lack of labour mobility. Finally, home ownership must not lead to an excessive accumulation of household debt. Ultimately, it is up to the government to decide to what extent it wishes to support home ownership through certain initiatives.